TelepART
Please note: Due to the current Coronavirus situation, TelepART funding can only be applied for projects that take place earliest on 1 September 2020. 
The Finnish Institute's TelepART funding programme helps emerging performing artists showcase their work internationally. The rapid-access style funding is designed to support the expenses for Finnish artists travelling to the United Kingdom and Ireland or British or Irish artist travelling to Finland. TelepART funding promotes international movement of performing artists working in the fields of theatre, circus, music, dance and performance art.
The programme enables artists to react quickly to work opportunities in the UK, Ireland or Finland. Grants will only be considered for projects where the organiser, performer and their representatives are committed to the production. Applicants must be able to demonstrate high artistic value, the production must be a collaboration between at least two countries and the performer(s) must receive reasonable compensation for their work. TelepART funding is open for applications throughout the year and decisions are made within two weeks of a successfully submitted application.
TelepART-funding can be applied for travel, accommodation and freight costs. The minimum amount that can be applied for is 100€ and the maximum amount is 1000€. The sum cannot exceed 50% of the total costs.
The Finnish Institute makes the grant decisions with the expert performing arts organisations Music Finland, Dance Info Finland, TINFO and CircusInfo Finland. Applications will be processed within two weeks.
The project is supported by Finnish Cultural Foundation, Finnish Ministry of Education and Culture, and Jenny and Antti Wihuri Foundation.
Apply for TelepART funding here.
More information: telepart(at)fininst.uk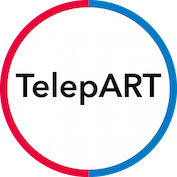 Theme photo: Roxy Mikkonen