Tom of Finland – Daddy and the Muscle Academy
22.06.2017
|
The Finnish Institute in London is proud to present an evening celebrating the art and influence of Tom of Finland
The event will take place on Thursday 6 July at the legendary Prince Charles Cinema in Soho as part of Pride in London.
The event starts with a discussion on Tom's influence on fashion, not only in the leather community, but also putting it in a wider frame by looking at sexual liberation and the impact of popular erotic imagery on fashion in general.
The discussion opens with an exclusive video interview with Jean Paul Gaultier where he talks about Tom's influence on his work and life.
Discussants for the evening are Roy Brown aka Roy Inc and Shaun Cole. Singer/songwriter/producer and performer Roy Inc has worked with artists such as Sting, Donna Summer, Verve, Neneh Cherry, Pet Shop Boys and Frank Ocean – and been shot by some of the most inspired fashion photographers of our time including David Bailey, Jurgen Teller and Nick Knight. Dr Shaun Cole is Associate Dean Postgraduate Communities at London College of Fashion. He was formerly Head of Contemporary Programmes at the Victoria and Albert Museum. Cole has also written and lectured on the subject of menswear and gay fashion and his publications include 'Don We Now Our Gay Apparel': Gay Men's Dress in the Twentieth Century (2000), Dialogue: Relationships in Graphic Design (2005) The Story of Men's Underwear (2010) and Fashion Media: Past and Present (2013).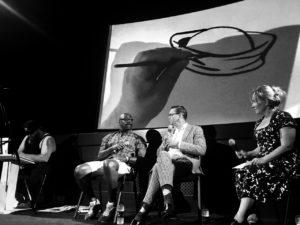 Petteri Tikkanen, Roy Inc, Shaun Cole and Pauliina Ståhlberg
Tom of Finland (Touko Laaksonen, 1920-1991) is one of the gay world's biggest icons. His drawings have had an enormous influence on the visual appearance, attitudes and self-understanding of gay people. Tom's ultimate leather men are known all over the world and they are key icons of Western visual culture.
The second half of the event consists of the screening of the classic documentary Daddy and the Muscle Academy by Ilppo Pohjola, the only film ever made with Tom of Finland himself. The film uses a variety of visual elements, including Tom of Finland in his own words. Tom tells his life story, starting with his childhood in rural Finland, and going on to the influence on him of WWII, his drawings and his experience in the United States. Tom also describes his drawing method and explains the personal and professional motives behind his drawings. Leather men from different parts of the United States talk about how Tom's drawings have influenced their own lives. There are also interviews with fellow artists Etienne and Nayland Blake, Bob Mizer of the Athletic Model Guild and Durk Dehner of the Tom of Finland Foundation.
Prince Charles Cinema 6:30pm – 8:30pm
7 Leicester Place, WC2H 7 London, United Kingdom
More information:
---