TelepART supports – We Are Queerlesque: Helsinki International Drag Fest 2023
Betty Fvck proudly presents the second Helsinki International Drag Fest – truly the most diverse Drag show has ever been in Finland. Being greater than the first version, this year the festival will come with two nights on the 3rd and 4th of March with two different shows. From the shows, you can see ground-breaking, revolutionary and breath-taking performances of a well-chosen fabulous and talented cast from all around the world. They are Drag Kings, Drag Queens; they do dancing, lip-syncing, burlesque, belly dance and circus. They are diverse in skin color and genders. They will give you a roller coaster of emotions, a lot of in-depth thoughts and especially a powerful message for their superpower to change the world.
Event Date: 3-4.3.2023
Place: Tanssin talo
Click here for the tickets to the show.
Learn more about the  TelepART funding programme here.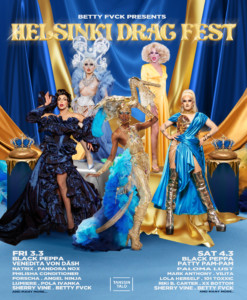 Text: Betty Fvck
Photo: © Betty Fvck
---