TelepART supports – Laboratorio
Laboratorio is a living artwork that combines dance, physical theatre, media and installation art. The artwork consists of modules that the working group calls experiments. A spectator can also view the modules as independent mini-works. The audience enters the space where the working group presents their inspiration through laboratory experiments. The artists have drawn their inspiration from, i.e. riding boots, the art of Touko Laaksonen, horses, nature films and 1980s video cassettes' overlapping recordings. The international group of professional freelance artists are Deirdre Griffin, Eddy Becquart, Anssi Laiho, Leevi Lehtinen, Sanna Silvennoinen, Milla Virtanen and Jari Haavikko.
Production by Dance Theatre Minimi, Milla Virtanen and Leevi Lehtinen.
Supporters: Kone Foundation, Samuel Huber Art Foundation, City of Oulu, TelepArt, The Finnish Cultural Foundation and Alfred Kordelin Foundation.
Click here to learn more about the performance.
Learn more about the  TelepART funding programme here.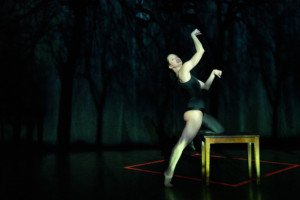 Text: Leevi Lehtinen
Dancer in the photo: Milla Virtanen
Photo: © Petra Tiihonen
---