TelepART supports- Johanna Juhola Trio
Johanna Juhola has been hailed as an undisciplined innovator in the tango genre, a world music icon and a major reformist in the field of accordion music – she has even been called a musical superhero. Johanna shakes up tango traditions wherever she goes. The newest concert ensemble presented by Johanna is a vividly visualised show titled Imaginary Friends. Besides this and Johanna Juhola Trio she performs with her colourful fantasy tango ensemble, Johanna Juhola Reaktori. Her highly original output and collaborative work with top names from the classical, jazz and even electronic music scene has sealed her reputation as a groundbreaking and genre-transcending visionary. Her compositions blend the parallel worlds of Argentinian and Finnish tango, following the latter's path into the melancholic soul of Finnish folk, emerging into the sunlight with uplifting flirtations with pop music and innovative excursions into electronica. Her multi-textured sound-stories are inspired by such imaginative themes as a limping tango dancer, a love affair between a driver and his seductive sat-nav, the singing of whales or simply feeling like a hippo on the dance-floor.
Johanna is well-known on the Finnish music scene through her influential involvement with bands such as Tango-orkesteri Unto, Las Chicas del Tango, Troka and Spontaani Vire, duo collaborations with Timo Alakotila, Pekka Kuusisto and Milla Viljamaa, music for theatre, circus, film and television as well as at the helm of her own projects, she maintains an impressively busy work schedule; an indefatigable explorer of her instrument's potential. The latest collaborations have been with the angel-voiced singer Emma Salokoski and for example with Oulu Symphony Orchestra and Turku Jazz Orchestra and playing Johannas compositions arranged for a big band.
With her Trio, virtuoso accordionist Johanna Juhola packs her singular compositions into a multi-coloured back-pack and wanders off in search of new sonic landscapes. It's a journey characterised by the intimate interplay and free-flowing improvisation between her button accordion and the dexterous acoustic guitar playing of Roope Aarnio. What appears to be a duo on the stage is indeed a trio as the heard-but-unseen hand of sound designer Teemu Korpipää enhances and expands the mix with expert creative use of effects. Textures of jazz, classical and folk are blended into Johanna's multi-faceted tango-nuevo inventions, illustrating instrumental stories full of spontaneous and sometimes surreal flights of fantasy. Johanna Juhola Trio appears on the albums 'Diivan jäljet – Shadow of a Diva', 'Fantasiatango' and 'Fantasiatango 2' and has performed in Russia, Germany, Algeria, Denmark, Mexico, France, Portugal, Norway, Japan and Sweden.
Johanna Juhola Trio will play several concerts at Shetland Folk Festival during the four festival days from 27 April to 30 April 2023.
Click here to learn more about Johanna Juhola.
Click here to learn more about the festival and tickets.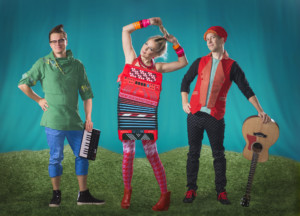 Teemu Korpipää: Sound Design; Johanna Juhola: Accordion; Roope Aarnio: Guitar, Vocals (From left to right)
Text: Johanna Juhola
Photo: © Sami Perttilä
---