TelepART supports – Doctoral Researcher Lassi Saario at the University of St Andrews
Lassi Saario is a Doctoral Researcher in Philosophy and Digital Humanities. Saario was granted TelepART Science funding for academic researchers for his research trip in May – June 2023 to Arché Research Center at the University of St Andrews.
Rules of valid reasoning are needed in philosophy, science, and all rational inquiry. The most valid kind of argument is one where the conclusion is a logical consequence of the premises. Logical consequence is the "glue" that holds our belief system together, but what holds the glue together? Has the composition of the glue changed over time, from the first theories of consequence in the Middle Ages to its mathematical definition in the 1930s? These questions cut deep into the foundations of the human intellect and scientific knowledge. My PhD thesis will deliver the answers.
One of the best places in the world to study this topic is the Arché Research Center at the University of St Andrews—not least because of the excellent Scholarship carried out in their Medieval Logic Research Group by Professor Stephen Read and Dr. Barbara Bartocci, leading experts on the medieval theories of consequence. Thanks to generous grants by the Finnish Institute in the UK and Ireland and the Finnish Cultural Foundation, I will be able to visit Arché for two months, during which time I will take part in seminars, discuss my work with world-class philosophers, and make Finnish Philosophy known to them.
Check out more about Saario's research here.
Learn more about the  TelepART funding programme here.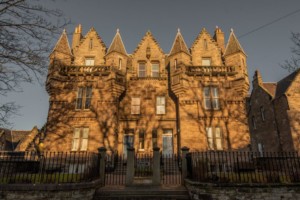 Edgecliffe Building, The Department of Philosophy at the University of St Andrews
Text: Lassi Saario
Photo: © The University of St Andrews
---