Street artist Jussi TwoSeven: "I wanted to remind people of the importance of nature"
Contemporary art
Street artwork All City Movement by artist Jussi TwoSeven will be decorating the streets of Brighton during Brighton Fringe Festival. We asked the artist about his work.
What made you to take part in Brighton Fringe?
"I wanted to gain some international experience. Previously, I had worked for example in Norway, but never in Britain. They wanted to have a street artwork in Brighton, so I offered All City Movement."
How would you describe your work?
"I am doing few different pieces, which are going to be located in different locations in Brighton. They are will later be joined together into an animation film. My artwork will mix traditional street art with digitality. The animation will be published online. The theme will be wolves, which goes together with Other Spaces Collective's show Wolf Safari, an interactive performance, which took place earlier at Brighton Fringe."
What inspired you to create All City Movement?
"I was inspired by nature. I wanted to remind people of its importance. I also wanted to bring nature and animals to the streets populated by people."
What kind of expectations do you have about Brighton Fringe?
"I am not familiar with Brighton Fringe, and I haven't experienced this kind of festival before. I really look forward to it. I have a busy schedule, but I hope that I am going to be able to see other performances."  
How do you expect the British audience will react to your work?
"The street art scene in Britain is very strong, so I think the audience will receive it well. I hope, that the running wolves together with wolf paintings will make people think. I just hope they won't accidentaly confuse them with symbols of a visiting football team."
All City Movement by Jussi TwoSeven will be located around Brighton 10/5—2/6.
Interview: Veera Heinonen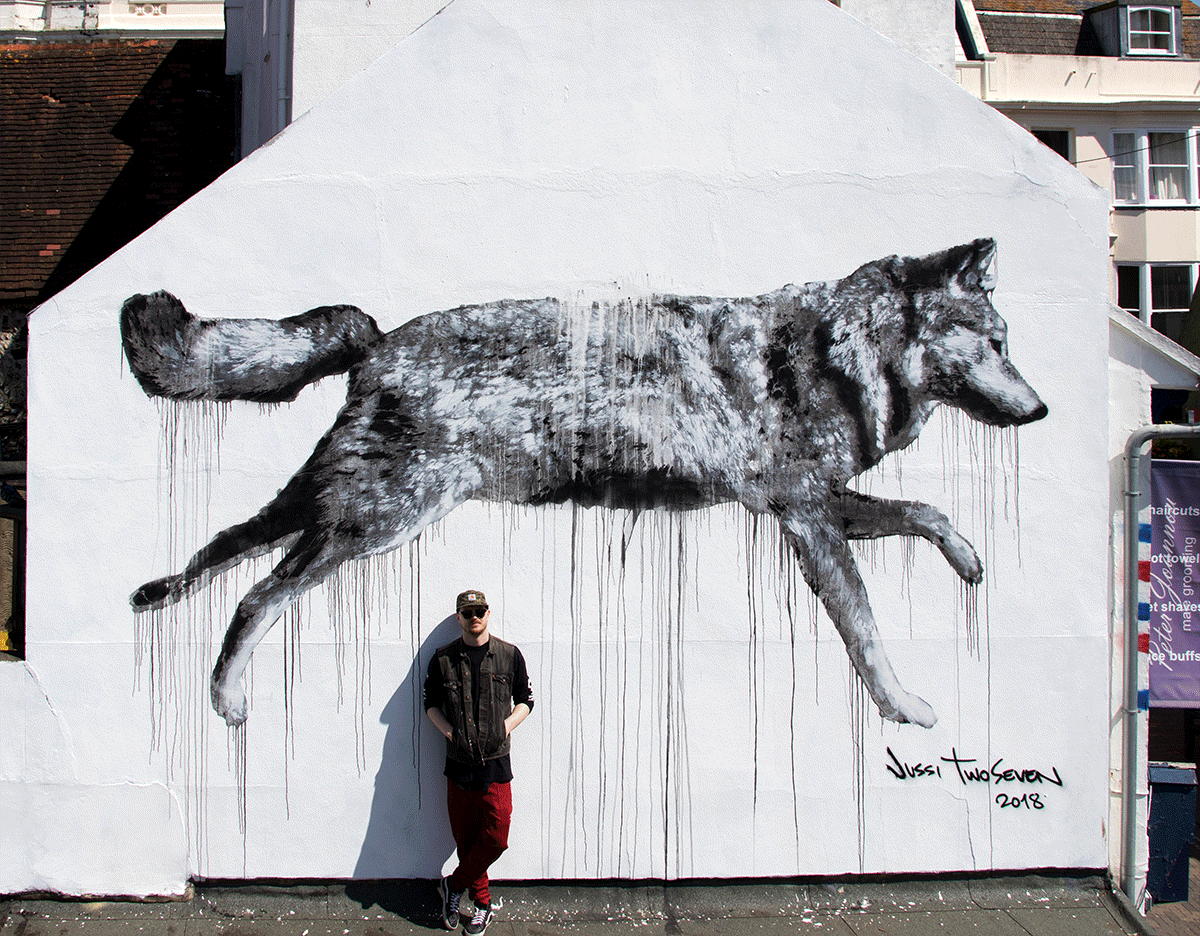 Interview: Veera Heinonen
Photo: Jussi Koistinen
---