The report looks at how European newspapers write about the "refugee crisis" – and whose crisis it actually is
The report is a joint effort between the Finnish Institute in London and the Finnish Cultural Institute for the Benelux. The newspapers chosen were The Guardian and The Times from the UK, Helsingin Sanomat and Aamulehti from Finland, and Le Soir and De Morgen from Belgium. The data studied for the report was limited to the time period from 1 January to 31 January 2016.
The most active to report on the situation with refugees and asylum seekers was Helsingin Sanomat. There were many similarities to be found in the data, but there were also country-specific differences in the covered themes.
The point of view of all the newspapers was Eurocentric and the "refugee crisis" was described mainly as a crisis for Europe. Refugees and asylum seekers were described as a "threat" to the stability of Europe. For example border controls and cases of sexual harassment were covered widely in all of the studied newspapers during January. The humanitarian side of the situation is written about less than the threats. The exception here are the British newspapers, with a particularly high amount of coverage on the humane aspect.
When talking about the "refugee crisis" the voices of the refugees and asylum seekers are heard less often than those of journalists, European experts, politicians and authorities.
"It is interesting to see who gets to comment on the situation and what kind of terminology the newspapers use when talking about the refugees and asylum seekers. For instance, terms such as refugee, asylum seeker and immigrant appear simultaneously and sometimes even as synonyms, despite their different meanings", says Johanna Sumuvuori, Head of Society Programme at The Finnish Institute in London.
3 May 2016 at 1pm there will be an event to discuss the findings of the report at the UNESCO World Press Freedom Day at Finlandia Hall, Helsinki. Discussants at the event are journalist Hanna Nikkanen and Coordinator of The Finnish Foundation for Media and Development Wali Hashi, among others. Publication events will also take place in Brussels and London in May-June 2016.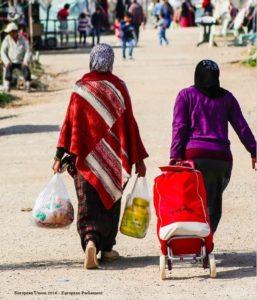 Photo: European Union 2016 – European Parliament
Follow us with the hashtag #refugeesinmedia
More information:
Johanna Sumuvuori, Head of Programme, Society, The Finnish Institute in London
johanna.sumuvuori(at)finnish-institute.org.uk
Annukka Vähäsöyrinki, Head of Projects, The Finnish Cultural Institute for the Benelux
annukka.vahasoyrinki(at)finncult.be
READ THE REPORT HERE: