Artists Kalle Nio and Hans Rosenström: We want Weaving, Yearning to be a surprising and magical experience 
Weaving, Yearning is a sound art installation that guides the audience along a 400-metre route through the heart of London's Kings Cross. Artists Hans Rosenström and Kalle Nio told us about the project opening in May. 
Weaving, Yearning is part of the multi-city A I S T I T / coming to our senses programme, organised by four of the Finnish Cultural and Academic Institutes. Tell us about the project.
Hans: The Finnish Cultural and Academic Institutes asked me to be a part of this project early on in the process. I felt that this was a great opportunity to assemble a diverse artistic programme, so I invited Satu Herrala to co-curate it with me. Senses as a theme is incredibly broad and can accommodate a range of approaches. Together with Satu, we've planned the project in its entirety, thinking through artists and themes we'd like to foreground.
Kalle: It was fun to take this as an opportunity to draw from my background as a magician. The magician's skill set involves tricking the senses and proving that we're constantly susceptible to being tricked by our sense perception. Hans's work often also deals with tricking the senses. The theme felt like a natural starting point for our collaboration. 
Tell us about the idea behind Weaving, Yearning?
Kalle: Our priority was to create an installation that made sense in the context of its surroundings. It's important that the work stands out without adding something superfluous. We realised that a sound installation could elevate the surroundings without being intrusive. Then, as the pandemic progressed it became evident that an installation that is outdoors and requires movement is ideal considering the conditions. It's also nice that the public nature of the work allows for chance encounters. 
Hans: The challenge for us was to create something for the space that felt meaningful. It's difficult to compete with the environment, so utilising sound seemed to be an interesting solution. It's invisible but capable of capturing a space. This installation may be especially interesting to those for whom it comes as a surprise. The sound can catch their attention, bring them closer and even engulf them. It has the potential to be a surprising and magical experience.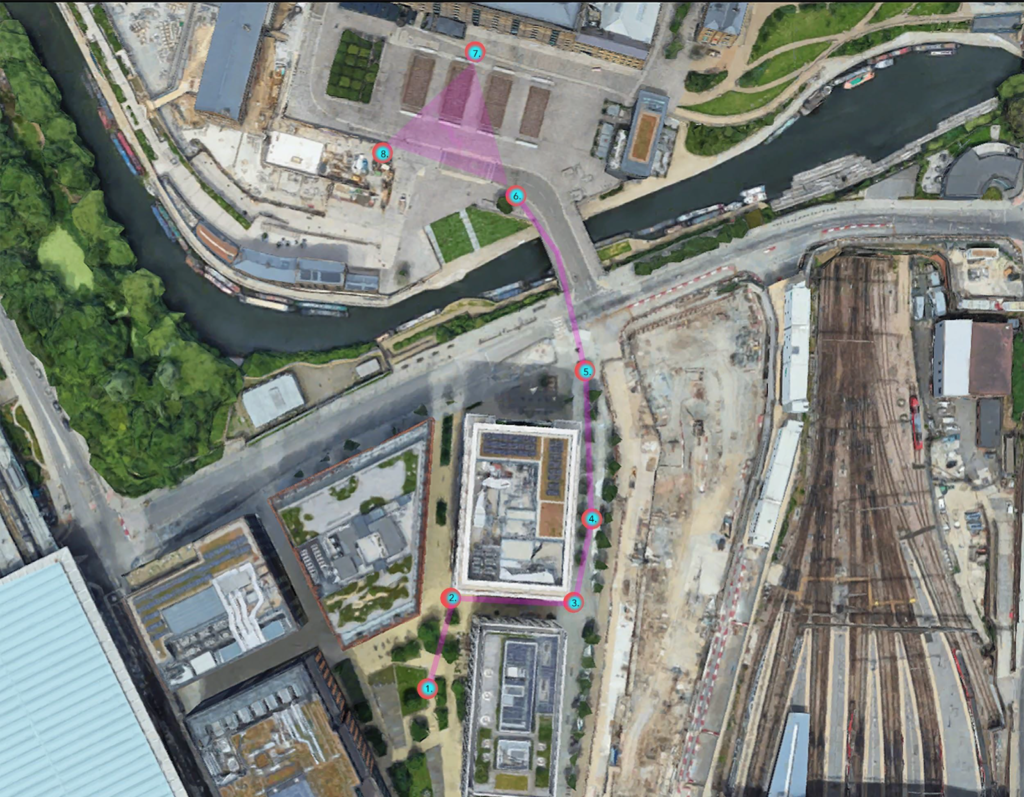 Planned route of Weaving, Yearning
What was it like collaborating with Aino Venna on this project?
Hans: As the idea for Weaving, Yearning started to come together, we realised we'd need to collaborate with a composer. So we asked Aino Venna, whom Kalle already knew. We had such a detailed idea and plan for the installation that we had to be actively part of the composition process. 
Kalle: The composition process started with lyrics, we worked on the lyrics for quite a while before passing them on to Aino. We spoke a lot about shared musical references. Aino then took that material and recorded some demos. Gradually, the composition started to come together. When the composition was all but finished, we organised rehearsals with the singers and based off of those recordings, we decided on the structure of the piece. We spent a week at the studio recording four singers, editing, and layering their voices and that's how the final composition came about. 
You've mentioned that this work draws inspiration from air and the evening sky. How is this reflected in the work?
Kalle: It's important to us that the work takes place at a certain time of day and that it isn't running non-stop throughout the day. We want the installation to change the participant's experience of their environment so we chose for it to take place during sunset, when everything is in a transitive state. 
Hans: The work draws attention to the inseparability of air and sound. Air enables life as well as communication. The pandemic has made us think about air and breathing in new ways. 
Kings Cross is one of London's busiest areas. How has the urban environment informed your approach? 
Hans: We don't want the work to be intrusive, but something that creates a certain ambience. 
Kalle: On paper, Weaving, Yearning is a relatively simple work, but practically it's quite complicated. For instance, the distance between the speakers is such that if we were to attach cables to each one of them, we'd have to find a way to hide kilometres of cable in the heart of Kings Cross. Logistically, this is a tricky installation to pull off. We want the installation to appear effortless, almost invisible. 
Weaving Yearning will take place during May. Please follow our channels for confirmed dates.
Text: Volter Rechardt, Image courtesy of the artists
---