Brighton Fringe Finnish Season
See a porn mimic, a whip acrobat, and become a wolf!
Finnish Season takes over Brighton Fringe festival in May. This means, that following Finnish performances are presented on the streets, at the bars, and in the theatres of Brighton: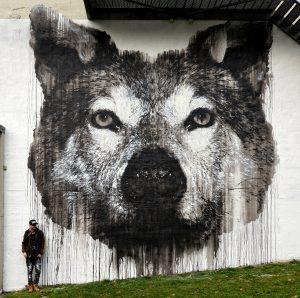 All City Movement by Jussi TwoSeven is a series of street paintings which appear around the city. They work as individual paintings but can also be viewed as a continuous piece of art. 7 May – 3 June. Admission free.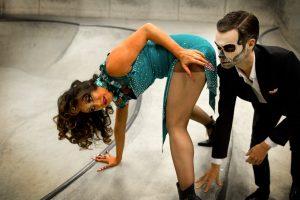 Blackpool by Milla Virtanen & Jaakko Toivonen is a dance performance, which takes the audience on a journey to the tough world of competitive ballroom dancing and reveals the rugged everyday life behind the glamour. Choreographers Milla Virtanen and Jaakko Toivonen are both former Finnish national ballroom dance champions. Performances: 23 May 21:30, 24 May 21:30, and 25 May 21:30. Admission £8.50–£10.50.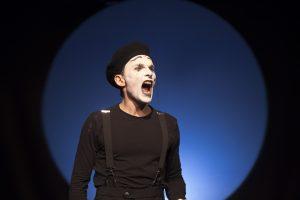 Dark Side of the Mime by Teatteri Takomo explores the grotesque like nothing else. It mixes clownery with classic pantomime, porn, splatter, and violence. Performances:  28 May 21 and 29 May 21:00 Admission £8.50–£10.50.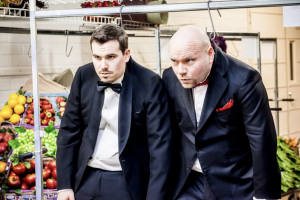 The Fabulous Bäckström Brothers by Fabulous Bäckström Brothers. UK premiere of the Finnish international musical-comedy hit, combining opera, pin-sharp musical variety and stomach-crampingly funny physical comedy. The show is, directed by Spymonkey's Toby Park and Aitor Basauri. Performances: 31 May 19:00, 01 June 19:00, 02 June 14:00, and 02 June 19:00 Admission £12.00–£15.00.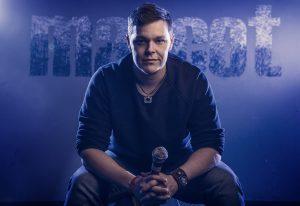 Gender Euphoria by James Lorien MacDonald is James Lorien MacDonald's second solo stand-up show. This time he's taking on as many aspects of gender as will fit in his chaotic, mesmerising brain. These are not the kind of dick jokes you're used to! Performances: 08 May 19:30, 09 May 19:30. Admission £7.50–£9.50.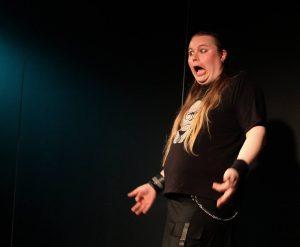 Queer Homo by Juuso Kekkonen is an award-winning stand-up show about a straight guy who fell in love with another man. Kekkonen's show takes the audience on a mind-bending trip from the Big Bang all the way to the end of the universe. Performances: 28 May 19:00, and 29 May 20:00. Admission £8.50–£10.50.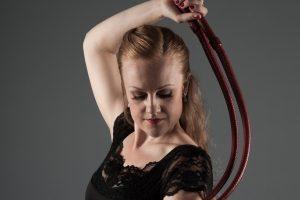 Sound Barrier by Company Kate and Pasi. The whip was the first human invention that broke the sound barrier. Finnish circus artist Katerina Repponen turns whip-cracking into an art in this astonishing piece. Sound Barrier is definitely unlike any show you have ever seen before. Performances: 29 May 19:00. Admission £8.50 –£10.50.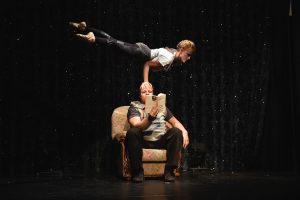 Suhde by Company Kate and Pasi. How can a 50kg woman win a 100kg man? And what kind of a relationship is there between such an unlikely duo when the two encounter each other? Who is leading and who is following?  Performances: 28 May 15:00. Admission £8.50–£10.50.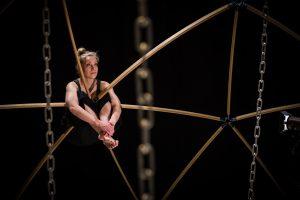 Väkevä / Lyydia (Double Bill) by Agit-Cirk. Circus up close: experience the power of the strongman and the beauty of the aerial artist in this world premiere from Finland. Performances: 04 May 19:00, 05 May 14:00, 05 May 17:30 and 06 May 14:00. Admission free.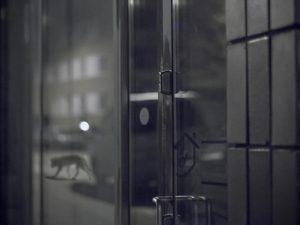 Wolf Safari by Other Spaces teaches us to look at the city through new eyes: those of the wolf! In this nocturnal wandering performance, participants will get under the wolf's skin and go hunting on the streets. The safari includes three parts: Wolf School, The Hunt, The Return/Discussion. Performances: 04 May 20:00, 06 May 20:00, 08 May 20:00 and 10 May 20:00. Admission £14.
Brighton Fringe is the biggest art festival in England. Finnish Season is organised by the Finnish Institute in London and the Embassy of Finland.
---