Below Zero winner Nastja Säde Rönkkö: "Exploring the symbols of blood, tears and sweat in contemporary culture"
Artist Nastja Säde Rönkkö, is the winner of Below Zero Art Prize 2023 and she has been working on her project "Salt in our blood, in our sweat, in our tears" at the Beaconsfield Gallery. The exhibition will open on the 16 March 2023 and runs until the 6 May 2023. She talked about the inspiration for this project and the influence created on her work while working in London.
Why did you decide to apply for the Below Zero art prize?
"I wanted to come back to London, and I thought the prize was really interesting because it included both a residency and an exhibition. The residency was also well supported, both in terms of budget but also in terms of mentoring. One of the main reasons for why I wanted to apply for this prize was that London was a familiar place to me and I have already worked here before. I also had an idea for a project that I really wanted to create."
You lived in London for over ten years – what's it like to work in your old home town?
"It's been absolutely wonderful! In some ways it has been easy, for example when having to search for locations or people to work with. It also helped that I already had a network of people who I have previously worked with."
Talk about your current project "salt in our blood, in our sweat, in our tears", and what was your inspiration for it?
"The idea for my project came from an interest in what salt, blood, sweat and tears signify in emotions, contemporary culture and medicine. For example, I've read about dating apps where you enter your blood type and people are matched based on what blood type they have. I would say that the starting point for this work was to explore what blood, tears and sweat symbolise in contemporary culture."
What new things have you wanted to try or aim for in creating your project?
"In this project I have explored and been much more involved with how the body functions. My other works have mainly explored emotions, but this project and its content are different to my previous ones. For example, I've read that tears cried from emotional reasons are stickier and have a different texture than tears cried from pain."
How does the project differ from your previous video installations?
"The project differs most from my previous video installations in terms of specific content, and I have read and done research from a more scientific perspective. I have studied detailed aspects of the human body that I have not studied before, such as what blood cells are made of and what proteins and sugars they contain, how tears are formed and what sweat is."
Has the fact that the piece was created in London and the UK influenced the design or creation of your work in any way, compared to if it had been created for example in Finland?
"It has, because I've produced this work here, so it's fundamentally different than if it had been created somewhere else. The fact that the piece is based on a text that has been created in London has a big influence on the work. The text talks about London and different things and places in London, as well as working with London-based performers."
What do you want to communicate with your work?
"I don't have a specific message that I want to say with my work, but rather to open up ideas and raise questions. I explore the ramifications and symbolism of salt, blood, sweat and tears."
Do you plan to change or adapt the piece in any way for the exhibition at the Serlachius Museums next year?
"I think the piece will change a bit, as it is created in situ. For example here at Beaconsfield Gallery, I had to think about the floors of the exhibition space, because it's an old school and the floors are tilted. The Serlachius Museums in Mänttä is a completely different space, so the piece has to always be adapted to the new space where it will be moved. For example, during the installation we have been thinking about how to transport the structures of the video works to Finland, and how to build them in a way that would work both in London and in Finland."
Nastja Säde Rönkkö: salt in our blood, in our tears, in our sweat exhibition at Beaconsfield Gallery (22 Newport Street, London) 16 March – 6 May (Wednesday – Saturday), free admission.  Preview on 17 March, 6pm (all welcome). Exhibition at Serlachius Museums in Mänttä, Finland in 2024.  
Nastja Säde Rönkkö returns to London to talk about 'salt in our blood, in our sweat, in our tears' with writer Chloe Carroll, on Thursday 27 April 2023 at 7pm @Beaconsfield Gallery Vauxhall. More info and booking here.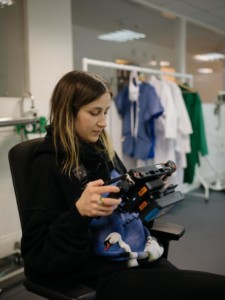 Interview by Emma Ikävalko
Photo by Luke Turner
---