Artist Artor Jesus Inkerö: "It's interesting how non-binary and queer people in Finland today use English words to talk about themselves"
Video and performance artist Artor Jesus Inkerö is in a residency from October to December 2021 at Somerset House in London. They answer questions about their plans for the residency and what they have been doing in London so far.
How did you end up in the Somerset House residency ?
Earlier this year Jaakko Nousiainen, director for the Finnish Institute in the UK and Ireland, suggested a residency and an art commission collaboration with Somerset House. Before London I was in Amsterdam in another residency, so of course I was thinking, what jumping from one residency to another would mean for my work, and how my practice would easily adapt. I had worked with Jaakko earlier with my performance piece "Score" in 2019, and that strengthened my desire to continue the collaboration with the Finnish Institute. 
What plans do you have for your residency?
We talked with Somerset House about areas of my practice in London. For me as an artist it is important to exist and work in the moment. I didn't want to go to London with a fixed plan for an artwork. I was really glad that both the Institute and Somerset House were interested in facilitating me and trusted my artistry. 
You've investigated the queer history in London, can you tell us more about this?
My studies have only touched the surface of the subject matter. When I started my studio work in London, I immediately noticed that queer history is notably visible in the urban landscape. I was surprised by the fact that as soon as I got here I was immersed into different archives, that have documentation of queer history. My first thought was, that I don't have time to research and go through all the material, but I don't have to, I'm not an academic researcher. I have contacted different libraries and archives. The meetings have been very significant and interestingly the majority of queer records has been documented by the police as criminal activity. Otherwise history has been recorded by activists or it has been transferred through communities and generations, if generations have made it. 
I ended up looking at activist archives that contain a lot of oral history, personal history, items, and literature. Most of these materials have been provided by queer people, and they contain valuable information. This kind of material supplements information in the police records as official state archives or history books have not had space for queer life. As far as I know, being queer was legally forbidden for the first time in the UK in 1533, and I'm sure that it was socially forbidden long before that even if that was the first law that criminalized a form of sexuality.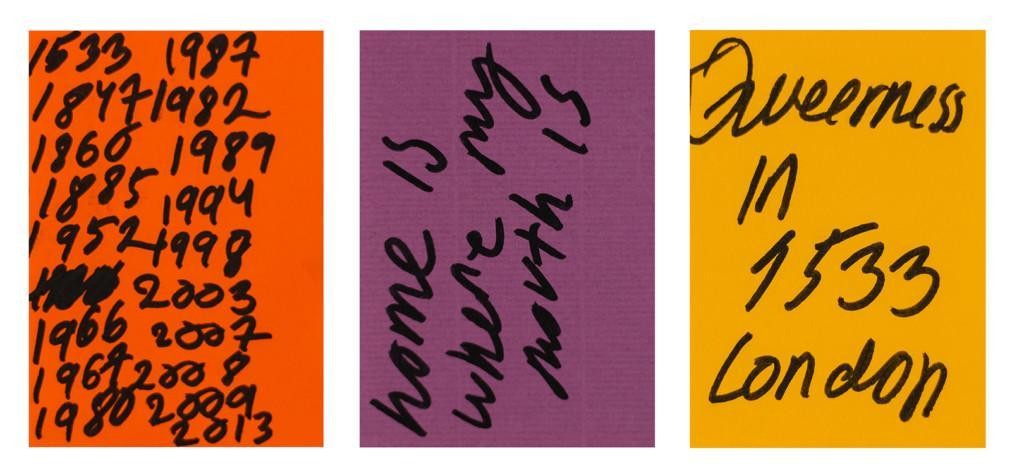 A selection of posters on display at the Somerset House New Wing.
What themes do you explore in your upcoming artwork?
It's interesting how non-binary and queer people in Finland today use English words to talk about themselves. Those of us who speak a language other than English as our mother tongue have to think about our identity through another language and culture.
When the limits of identity are the limitations of binary languages in understanding oneself, you start to wonder about the differences between languages and cultures, or maybe a transaction being somehow paid for one's own liberation. Why do we have to find ourselves and our own queerness through American and British culture?  I find this fascinating and I think it's also connected to internationalisation, the Internet and also this residency: what tools a human being has in understanding themself.
What have you been doing so far in London? 
So far in London I've mostly been exploring and researching. I've gotten to know my neighbourhood, other artists and interesting people, plus, formed new fabulous friendships. London has made me feel very welcome.  
Artor Jesus Inkerö (b.1989) is a visual artist working in performance, moving image, photography, sound and drawing. Inkerö is currently in a residency at the Somerset House in London. Prior to that they attended the 2,5-year residency at the Rijksakademie. Inkerö studied  time and space arts at the University of the Arts in Helsinki.  Their work has been presented at New Museum in New York, Beursschouwburg-theatre in Brussels, Museum of Photography CCP in Melbourne, Kunsthal Charlottenborg in Copenhagen, Museum of Contemporary Art Kiasma in Helsinki.
Artor Jesus Inkerö's residency at Somerset House in London is financed by the British Institute in the UK and Ireland. Find out more here. 
Text: Matilda Lindblom
Image: Silvia Martes
---