Over 100 Finnish books available for library users around the UK
21.12.2017
|
Democracy
The well-received 10×10 Stories from Finland campaign has come to its conclusion
During 2017, the Finnish institute in London donated beloved Finnish books, translated to English, to ten public libraries around the UK. Due to a great interest in the campaign, an additional set of books was also brought to Ireland.
The campaign celebrated the centenary of Finnish independence by highlighting the importance of literacy, literature and libraries.
"The libraries have given our books a very warm welcome, and we wish that many readers will be able to discover these fascinating stories. The campaign has also raised interest towards the Finnish library system", said Pauliina Ståhlberg, the Director of the Institute.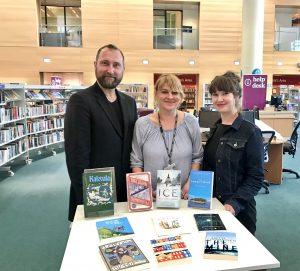 Brighton Jubilee Library received its books in June.
Each donation consisted of 10 books, ranging from crime novels and other adult fiction to poetry books and children's books. Each set of book was slightly different, but all of them included Kalevala, the Finnish national epic. Find the full list of books included in the campaign here (pdf).
Norfolk and Norwich Millennium Library, which is one of the most popular libraries in the UK, was the last library to receive our book donation.
"We were delighted to have been selected as part of the campaign. We know our customers enjoy a good Scandinavian Crime read, so it has been great to be able to broaden this out by receiving bestselling titles in Finland from a range of genres", commented Charlene Brookes, a Material Manager at the Millennium Library.
Other libraries included in the campaign were Southampton Central Library, Nottingham Central Library, Leeds Central Library, Brighton Jubilee Library, Edinburgh Central Library, The Mitchell Library (Glasgow), Cardiff Central Library, Bristol Central Library, Dublin Central Library and Belfast Central Library.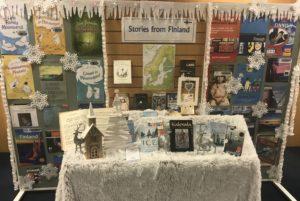 In Dublin Central Library, the donated books were awarded a beautiful display.
Our partners in this campaign were Embassy of Finland in London, Bloodaxe Books, Gecko Press, Orenda Books, Pikku Publishing, Serpent's Tail, Sort of Books and Vagabond Voices. 10×10 Stories of Finland was a part of the official programme of Finland 100.
#StoriesFromFinland
---